University of Iowa Pharmaceuticals has a new, larger capacity sterile products manufacturing facility in the final stages of construction and validation.  Let us help you meet your larger scale sterile fill/finish and lyophilization needs.
UI Pharmaceuticals knows that sterile processing is critical and offers both clinical supply and small scale commercial product manufacturing and testing services.
Our Sterile Products Group has a new 16,000 square foot sterile processing facility coming on-line with two fully automated, ISO 5 integrated isolator lines, each interfaced with a Telstar Lyophilizer with clean in-place and steam in-place capability.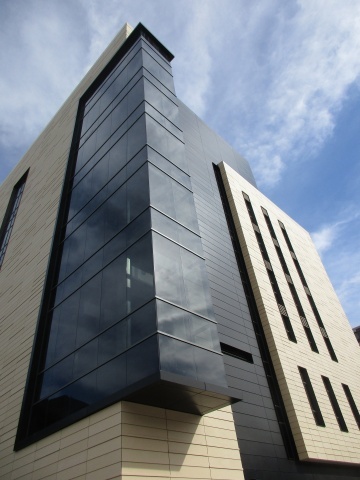 Sterile pharmaceutical products are prepared by sterile filtering and then filling solutions into glass vials in isolators. After filling, vials can undergo lyophilization if desired.  UI Pharmaceuticals also has the capability to terminally sterilize solution products, if desired. Batch sizes can range from a few thousand vials to up to approximately 20,000 vials or 200 L of bulk solution, depending on vial size. Differential air pressures, along with other measures, including dedicated product contact equipment components, are used to prevent cross-contamination.  Because our fillers use peristaltic pumps, line losses are low compared to larger operations. Vial sizes processed range from 2 mL to 100 mL and fill volumes can range from 0.5 mL up to 100 mL for liquid products.
We are able to process controlled substances schedules I-V and most potent and cytotoxic materials.  We routinely work with both large and small molecules.
Component preparation equipment includes:
Vial Washers
Depyrogenation Tunnels
Steris Reliance 680PG Pharmaceutical Grade Washers
Steris Autoclave
Key filling, finishing, and processing equipment includes:
Vial filler, stoppering, and vial capping machines 
TelStar Lyomega 80ST DH-RC 5.4/140 lyophilizers with Lyogistics Rx RVLus 400 Loaders with Tee switches and conveyers (used for sterile lyophilized products)
Cleaning and disinfection components include:
Steris Reliance 680PG Pharmaceutical Grade Washer
VHPM1'000-S/T4 Decontamination manifold system linked with a Bioquell VHP system
After completion of the manufacturing process all vials will automatically be washed by an External Vial Washer before leaving the isolated lines.
Visual inspection will be performed on 100% of the vials for each batch.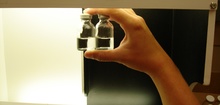 UI Pharmaceuticals has the ability to apply labeling to the finished vials. For smaller clinical studies, patient kits can be assembled and materials can be shipped directly to clinical sites.
UI Pharmaceuticals has extensive experience developing lyophilization cycles. We have a Lyotherm2, Lyostat2, and TA Instruments Q20 DSC that are used to determine critical lyophilization parameters, and then trial batches are processed in our TFS LyoStar II and/or Virtis Advantage development lyophilizers. To learn more about our lyophilization cycle development capabilities, please consult our Lyophilization Cycle Development Page.
To learn more about our sterile pharmaceutical products manufacturing and packaging capabilities, please Contact Us.